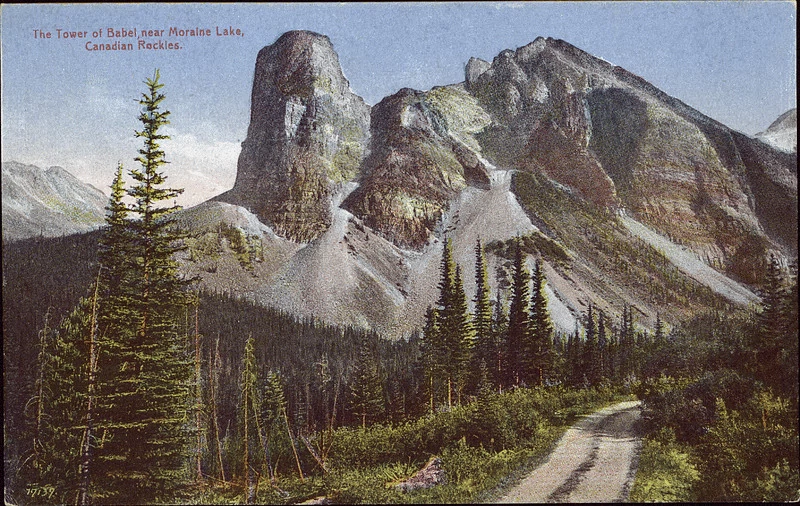 Guide to Hiking the Tower of Babel
The Tower of Babel is a unique rock formation that stands out amongst Mount Babel and the Valley of the 10 Peaks at Moraine Lake, in Banff National Park. It's different because of its towering shape much like the Biblical Tower of Babel and is rated difficult to climb. You should be in good physical condition to summit the Tower of Babel.
Length:

2.9Km there and back.

Time:

2 - 4 hours there and back, fitness level dependent.

Rating:

Difficult.

Elevation Gain:

520m/1706ft.

Availability:

Only when Moraine Lake is open (mid May to mid October).

Bear in Area:

4 - 6 people in group.

Bear with Cubs:

No access.

Basecamp:

Moraine Lake.

Additional Gear:

Hiking poles and helmet.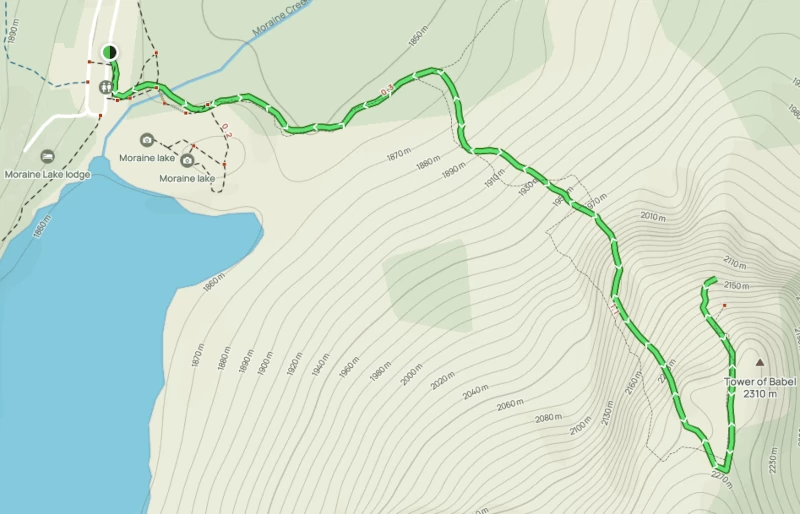 What gear will I need?
To hike the Tower of Babel you will need; good hiking boots, PANTS, hiking poles, helmet, bear spray, food, first aid kit, a sweater and backpack with good hydration system. Bring plenty of water with you because there are no services or streams available on this hike. Basically, if worse comes to worse, have enough gear, food and water in case you have to spend the night.
Should I check the weather?
It is a good idea to check the weather forecast before you go. Sudden rain, heavy winds, thunder and lightning are common in the area. Check the weather forecast before your hike.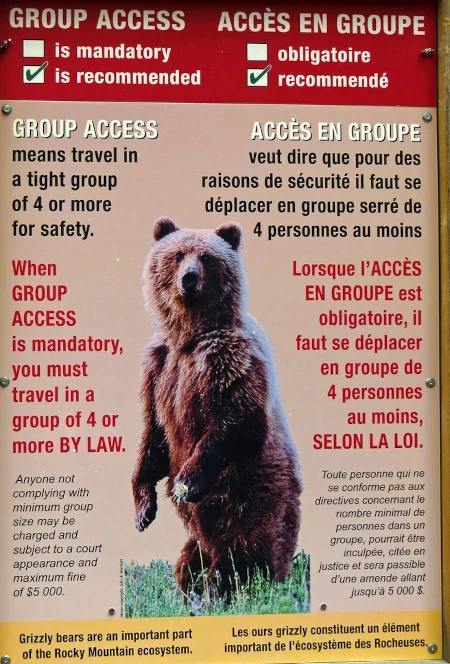 How do I find the trail to the Tower of Babel?
This is where it gets interesting. You will actually have to take two trails to get to the Tower of Babel. First, by the washrooms you take the trail to the Rockpile, after you cross Moraine Lake Creek and go up the steps you will see a bear sign. Turn left toward the Consolation Lakes, you are now on the Panorama Ridge Route. Once you've walked 250 meters, more or less, you'll come to a fork in the trail, go right. You are now on the Tower of Babel Route.
As soon as you get to the scree area, this is a good time to put on your helmet. Falling rocks can be a hazard on the Tower of Babel, it is so steep that if someone from above has a slight misstep and loosens some rocks, it could only be a tiny bit, but they will rain down upon you and cause a few bumps, a concussion or even death. Please, wear a helmet and protect your head. It's also a good idea to hike with a partner or group, and to let someone know your planned route and estimated return time.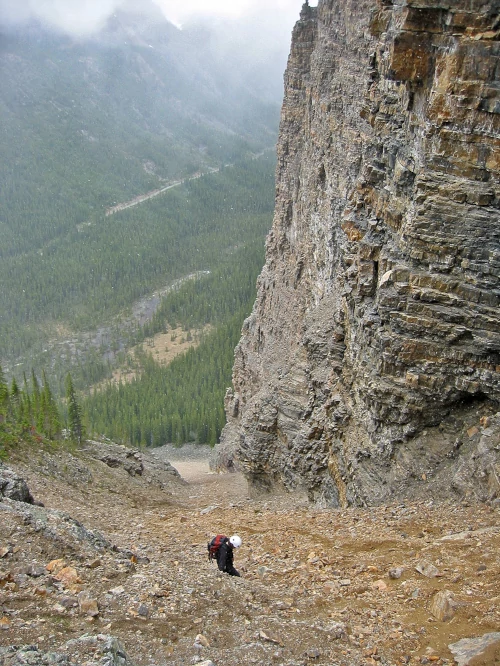 Photo Credit Bob Spirko. Tower of Babel
Once you pass the scree area, you will come to the mountain face. Here you will have to scramble the rest of the way to the top. Most people find that this scree and scramble is the toughest part of the hike. Once you have passed this area, it becomes more of a hike to the summit. There are a couple of areas that bridge one section to the other, there is a tiny walkway with both sides that drop a considerable distance, it is important to take care in these areas.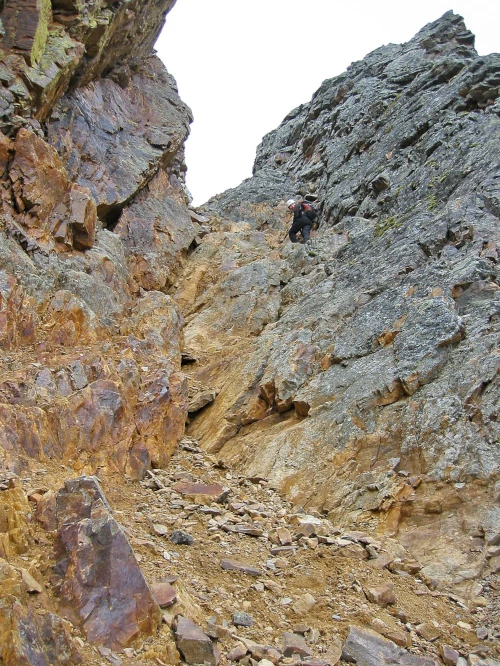 Photo Credit Bob Spirko. Tower of Babel
What will I see at the top?
You will see one of the most beautiful, panoramic scenes of Moraine Lake, Consolation Lakes, Valley of the 10 Peaks and Mt. Temple. On a sunny day you will be mesmerized by the turquoise blue of the Moraine Lake down below, pictures won't do it justice, you have to see it to believe it.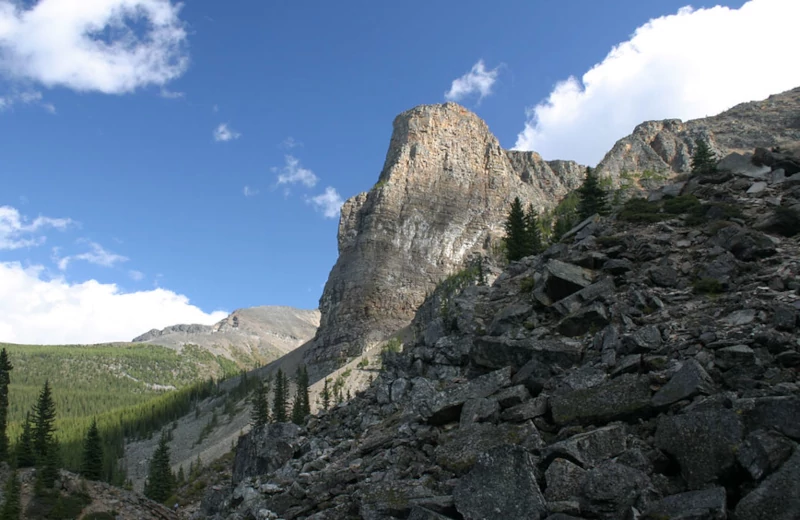 Conclusion
So far, we have discussed where the Tower of Babel is, how to prepare for the climb with appropriate gear and how to get to the summit of the Tower of Babel. Also, take this moment to practice the seven principals of Leave No Trace so others can enjoy the natural splendor of this magical place.
YouTube Video of Climbing the Tower of Babel